The social media analytics tool to grow your brand
Implement a data-driven strategy.
Define your marketing goals and perfect your business on social networks.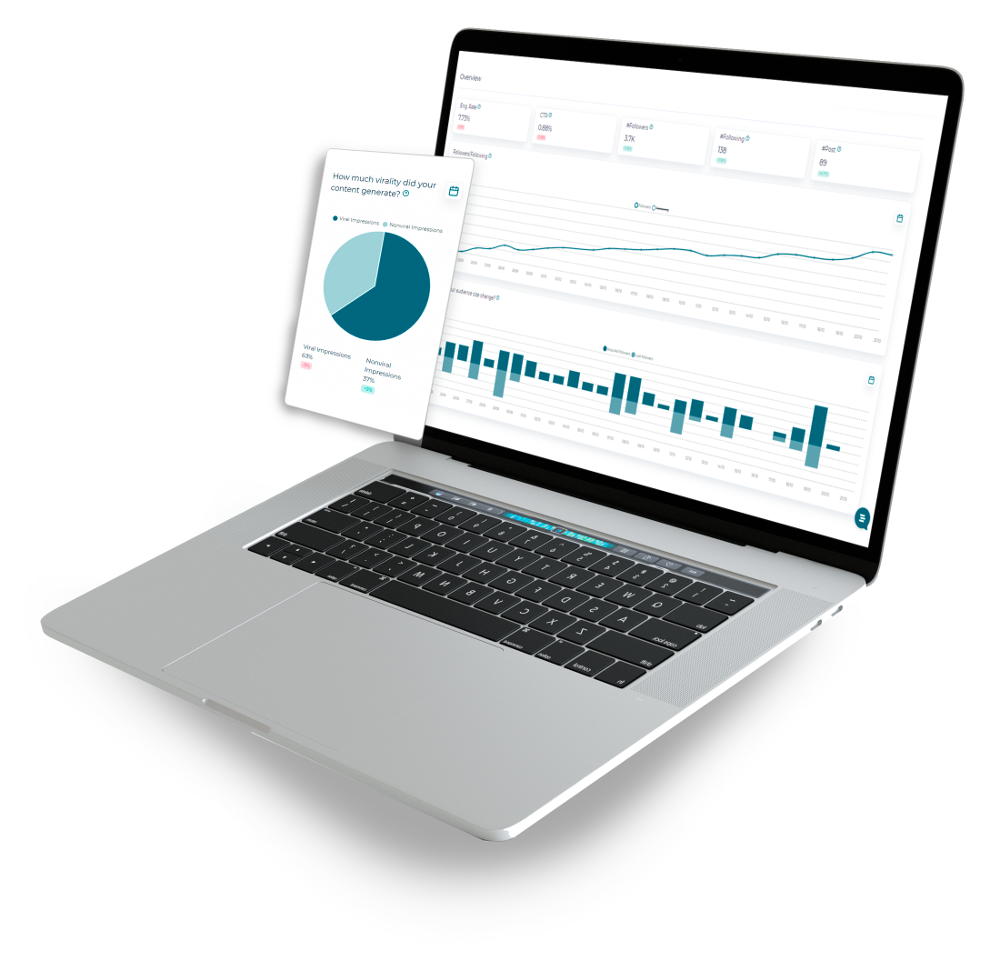 No more excel spreadsheets to fill daily
Start optimizing your marketing strategies now
Available on Facebook and Instagram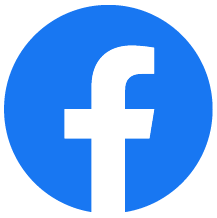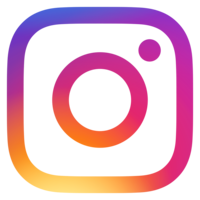 Here's how our social media analytics tool works:
GOALS - Ready to take off ✈
improve your strategy one goal at a time
Sbam Goals transforms data into intuitive graphs and insights, allowing you to evaluate the achievement of goals through the most appropriate KPI.
Analyze the trends of your social activity and find out how to improve your marketing strategy.
Discover more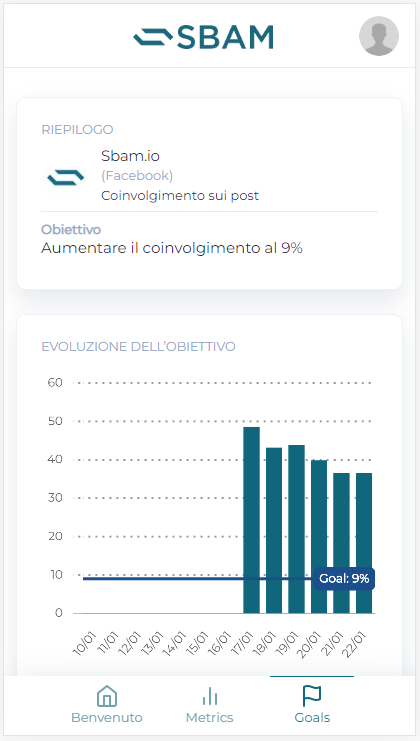 METRICS - Change perspective 🔭
get to know your audience, learn from your mistakes
Sbam Metrics collects information daily from your social accounts and processes it using artificial intelligence. Build the profile of your potential customers, identify the contents with the best results and improve your results by analyzing social media analytics.
Discover more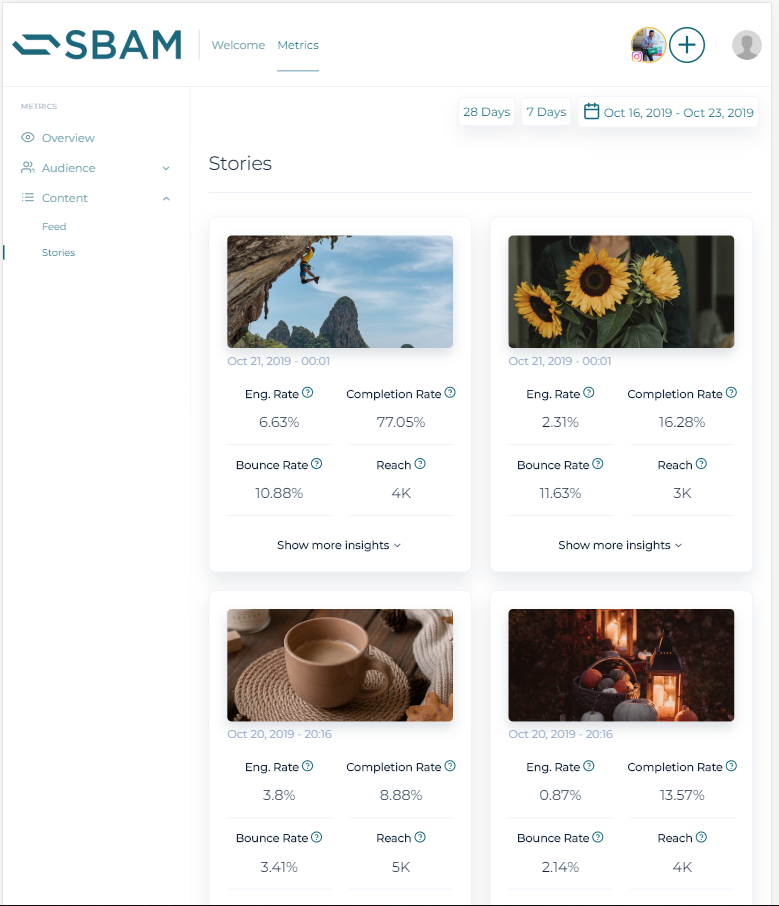 Sbam is built for:
content creators & influencers
small and medium-sized enterprises
What can you monitor with Sbam?
top performing Instagram stories
interactions over content
conversion into customers
and much more...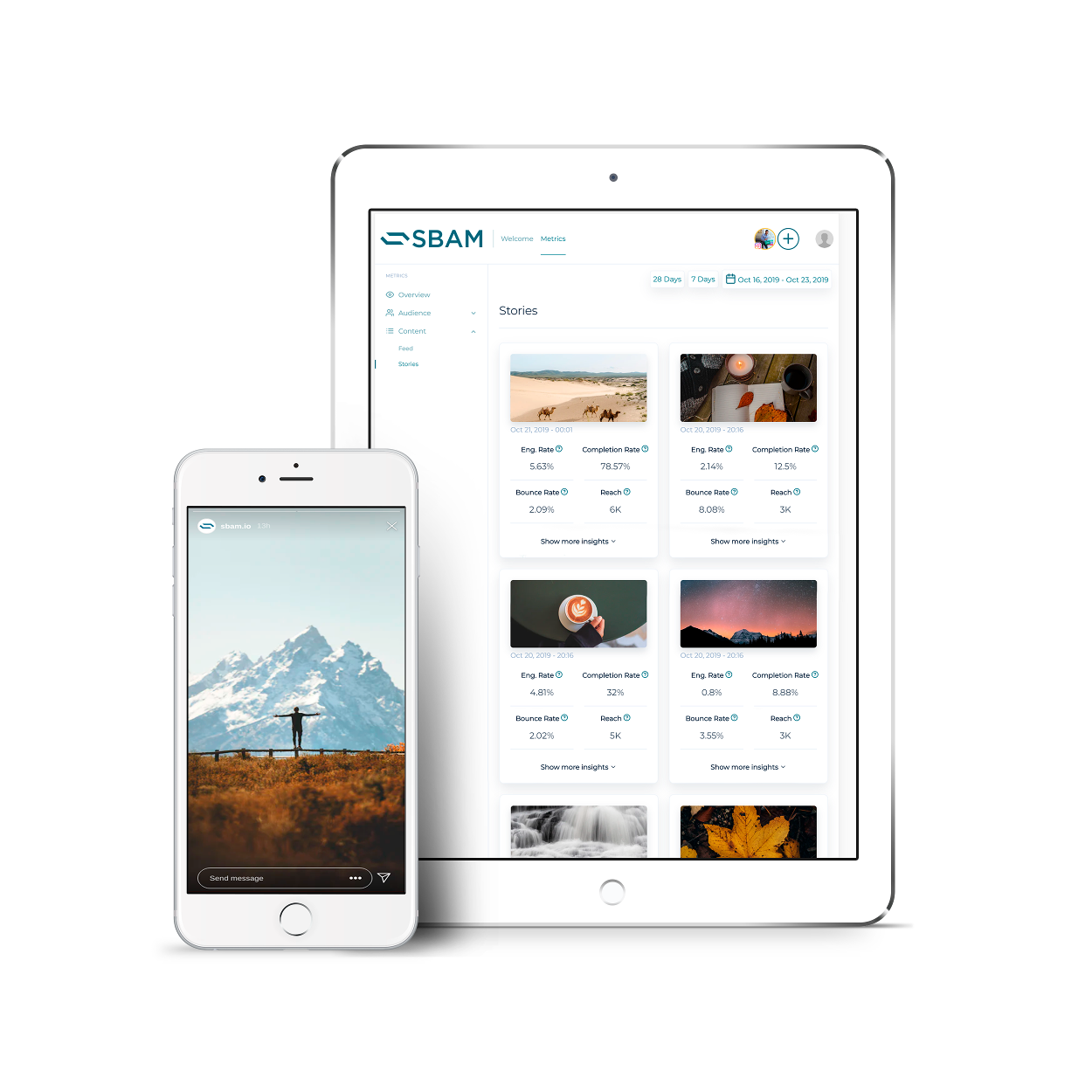 Simplify your day and reach your goals faster
Discover our features
Frequently Asked Questions
Sbam is a social media management and optimization platform. Our platform goes beyond reports, providing immediately usable data to facilitate the optimization of content. Our goal is to help you make the best decisions to grow your online business.
Sbam is designed to facilitate the reading of information. Connect to Sbam Goals, add a business goal and follow the suggestions to improve.
You can get more information about metrics by clicking the "(?)" icon at any time.
You can access and use Sbam for free, but with limited features. To try out all the features you can activate the two-week free trial.
The platform meets the most advanced industry standards in terms of data security. Payments are made using the services offered by Stripe.
Sbam is constantly evolving and is updated monthly with new features.
You can request support through the chat within the platform or contact us via email at support@sbam.io If you want to learn more about features and strategies, you can consult the info-boxes by clicking on the "(?)" icon, or by visiting our blog.
Yes. Sbam is developed as a progressive web app: access the settings of your mobile browser (both Android and iOS) and click add to home.
Sbam is a cloud platform, therefore you don't need any specific operating system to use it. You only need internet access.